Enhancing the Mason Core
The Mason Core Committee has been discussing how to enhance our general education program to better prepare students to be scholars and citizens who thrive in a diverse, global world. Mason, situated in the American South and the namesake of a slaveholder, is one of the most diverse and globally connected universities in the world. We are uniquely positioned to confront the past and teach students how to create a more equitable future. Because recent Mason Core assessment data showed general support for the current program and structure, the Mason Core considered a limited number of enhancements to the existing program with a targeted goal of integrating diverse, anti-racist, and global perspectives in our shared educational experience.
The Mason Core Committee considered multiple models to enhance the Mason Core over the past year. Based on extensive discussion, incorporating feedback from over 1000 members of the Mason Community, the Mason Core Committee developed this Enhanced Mason Core framework to enact over the next few years.
The Faculty Senate approved three important enhancements to the Mason Core during During the April 27 Senate meeting. These revisions are detailed below. The Senate approved the below revisions to the Mason Core. The Senate voted to review proposed changes to the Synthesis/Capstone requirement in Fall 2022. To review minutes of that the meeting, see the Faculty Senate website.
Please note that implementation of any updates to the Mason Core will be phased over the next few catalog years, as appropriate.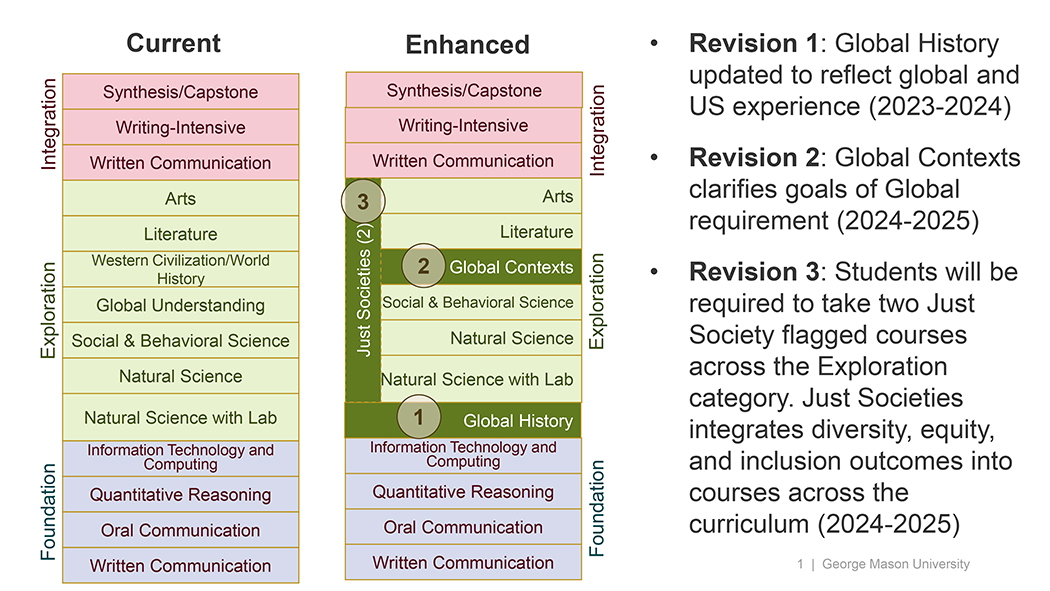 Click here to find the slides from the April 6 Mason Core Faculty Senate meeting.